ID# 1210:

"Inventor's foreign ancestry studied," Baltimore Evening Sun

Date:

1927

Pages: 1 of 1

Source:

The Harry H. Laughlin Papers, Truman State University, papers, D-4-2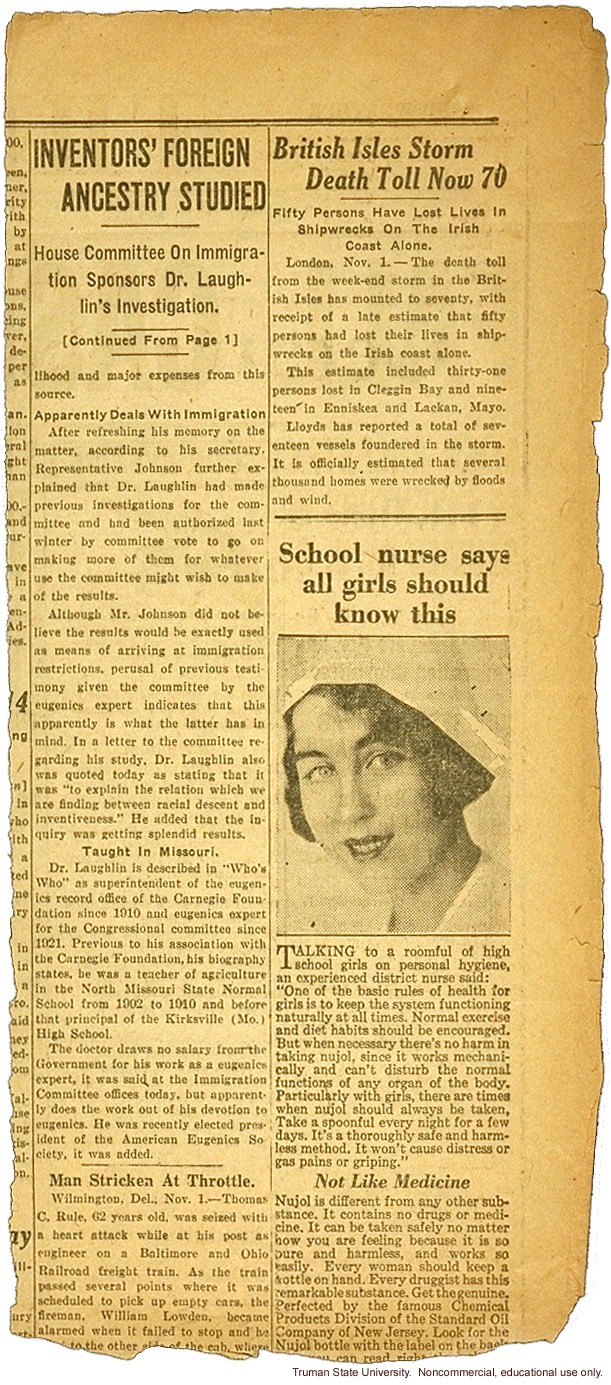 Image 1210 Inventors' Foreign Ancestry Studied [centered line] House Committee On Immigration Sponsors Dr. Laughlin's Investigation. [centered line] [open bracket]Continued from Page 1[closing bracket] [centered line] lihood and major expenses from this source. Apparently Deals With Immigration After retrieving his memory on the matter, according to his secretary, Representative Johnson further explained that Dr. Laughlin had made previous investigations for the committee and had been authorized last winter by committee vote to go on making more of them for whatever use the committee might wish to make of the results. Although Mr. Johnson did not believe the results would be exactly used as means of arriving at immigration restrictions, perusal of previous testimony given the committee by the eugenics expert indicates that this is apparently what the latter has in mind. In a letter to the committee regarding his study, Dr. Laughlin also was quoted today as stating that it was "to explain the relation which we are finding between racial descent and inventiveness." He added that the inquiry was getting splendid results. Taught in Missouri. Dr. Laughlin is described in "Who's Who" as superintendent of the eugenics record office of the Carnegie Foundation since 1910 and eugenics expert for the Congressional committee since 1921. Previous to his association with the Carnegie Foundation, his biography states, he was a teacher of agriculture in the North Missouri State Normal School from 1902 to 1910 and before that principal of the Kirkesville (Mo.) High School. The doctor draws no salary from the Government for his work as a eugenics expert , it was said at the Immigration Committee offices today, but apparently does the work out of his devotion to eugenics. He was recently elected president of the American Eugenics Society, it was added. [centered line] SUE: The following articles may not be relevant, but I thought since it was part of the image... Man Stricken at Throttle. Wilmington, Del., Nov. 1. - Thomas C. Rule, 62 years old, was seized with a heart attack while at his post as engineer on a Baltimore and Ohio Railroad freight train. As the train passed several points where it was scheduled to pick up empty cars, the fireman, William Lowden, became alarmed when it failed to stop and he [omis] [right column] British Isles Storm Death Toll Now 70 [centered line] Fifty Persons Have Lost Lives in Shipwrecks On The Irish Coast Alone. London, Nov. 1 - The death toll from the week-end storm in the British Isles has mounted to seventy, with receipt of a late estimate that fifty persons had lost their lives in shipwrecks on the Irish coast alone. This estimate included thirty-one persons lost in Cleggin Bay and nineteen in Eniskes and Lacken, Mayo. Lloyd's has reported a total of seventeen vessels foundered in the storm. It is officially estimated that several thousand homes were wrecked by floods and wind. [centered double line] School nurse says all girls should know this [centered line, graphic portrait, centered line] Talking to a roomful of high school girls on personal hygiene, an experienced district nurse said: "One of the basic rules of health for girls is to keep the system functioning naturally at all times. Normal exercise and diet habits should be encouraged. But when necessary there's no harm in taking nujol, since it works mechanically and can't disturb the normal functions of any organ in the body. Particularly with girls, there are times when nujol should always be taken. Take a spoonful every night for a few days. It's a thoroughly safe and harmless method. It won't cause distress or gas pains or griping." Not Like Medicine Nujol is different from any other substance. It can be taken safely no matter how you are feeling because it is so pure and harmless, and works so easily. Every woman should keep a bottle on hand. Every druggist has this remarkable substance. Get the genuine, perfected by the famous Chemical Products Division of the Standard Oil Company of New Jersey. Look for the Nujol bottle with the label on the [omis] [end]

Copyright 1999-2004: Cold Spring Harbor Laboratory; American Philosophical Society; Truman State University; Rockefeller Archive Center/Rockefeller University; University of Albany, State University of New York; National Park Service, Statue of Liberty National Monument; University College, London; International Center of Photography; Archiv zur Geschichte der Max-Planck-Gesellschaft, Berlin-Dahlem; and Special Collections, University of Tennessee, Knoxville.
The images and text in this Archive are solely for educational and scholarly uses. The materials may be used in digital or print form in reports, research, and other projects that are not offered for sale. Materials in this archive may not be used in digital or print form by organizations or commercial concerns, except with express permission.