ID# 1479:

The Kallikak Family: A Study in the Heredity of Feeble-Mindedness, by Henry Herbert Goddard, selected pages

Date:

1912

Source:

University of Albany, SUNY, Estabrook, SPE,XMS 80.9 Bx 2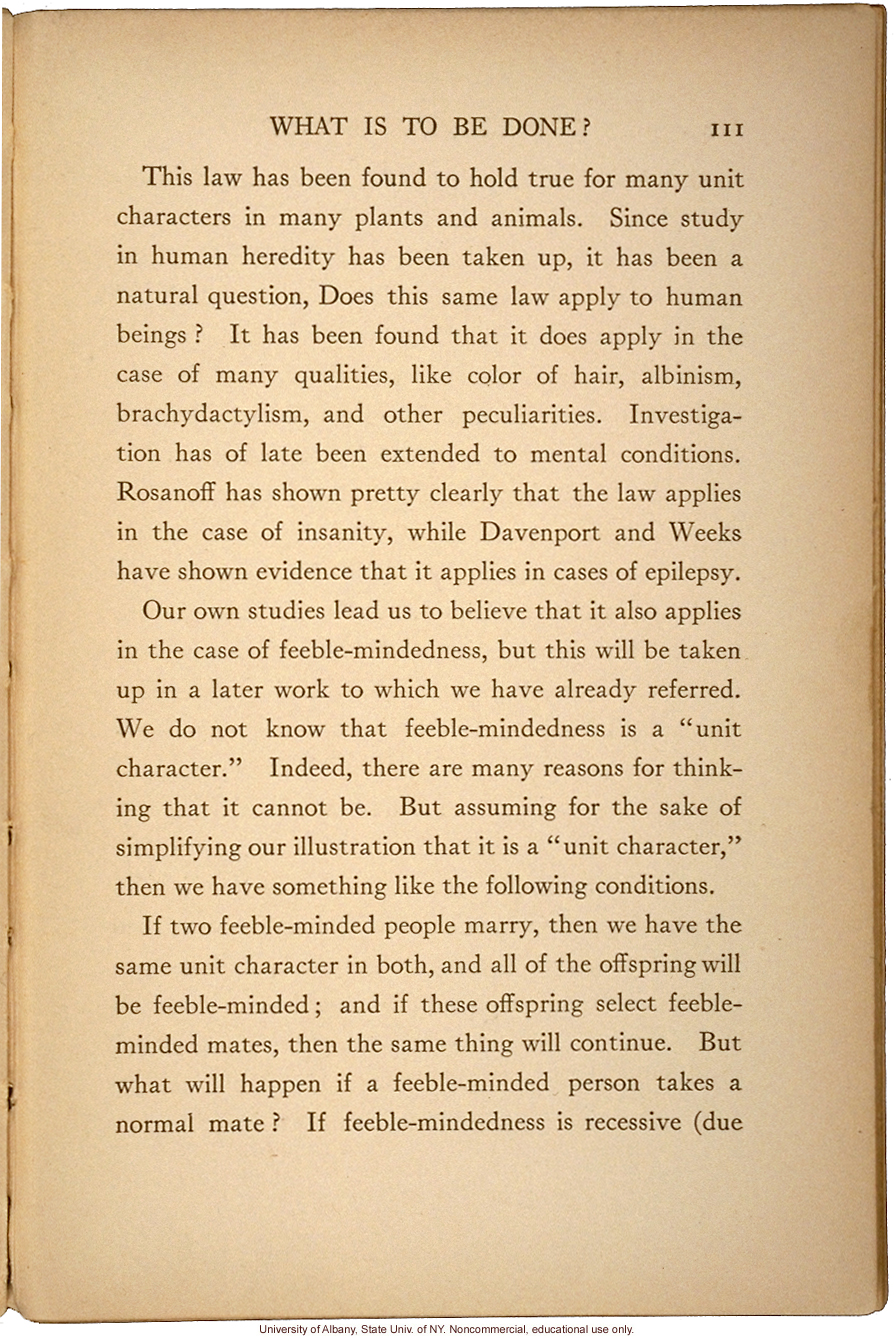 What is to be Done? 111 This law has been found to hold true for many unit characters in many plants and animals. Since study in human heredity has been taken up, it has been a natural question, Does this same law apply to human beings? It has been found that it does apply in the case of many qualities, like color of hair, albinism, brachydactylism, and other peculiarities. Investigation has of late been extended to mental conditions. Rosanoff has shown pretty clearly that the law applies in the case of insanity, while Davenport and Weeks have shown evidence that it applies in cases of epilepsy. Our own studies lead us to believe that it also applies in the case of feeble-mindedness, but this will be taken up in a later work to which we have already referred. We do not know that feeble-mindedness is a "unit character." Indeed, there are many reasons for thinking that it cannot be. But assuming for the sake of simplifying our illustration that it is a "unit character," then we have something like the following conditions. If two feeble-minded people marry, then we have the same unit character in both, and all of the offspring will be feeble-minded; and if these offspring select feeble-minded mates, then the same thing will continue. But what will happen if a feeble-minded person takes a normal mate? If feeble-mindedness is recessive (due [end]

Copyright 1999-2004: Cold Spring Harbor Laboratory; American Philosophical Society; Truman State University; Rockefeller Archive Center/Rockefeller University; University of Albany, State University of New York; National Park Service, Statue of Liberty National Monument; University College, London; International Center of Photography; Archiv zur Geschichte der Max-Planck-Gesellschaft, Berlin-Dahlem; and Special Collections, University of Tennessee, Knoxville.
The images and text in this Archive are solely for educational and scholarly uses. The materials may be used in digital or print form in reports, research, and other projects that are not offered for sale. Materials in this archive may not be used in digital or print form by organizations or commercial concerns, except with express permission.