ID# 1883:

"A Great Hyperkinetic," Eugenical News (vol. 5:11), biography of Theodore Roosevelt including reference to his political relatives

Date:

1920

Source:

Cold Spring Harbor, ERO, Eugenical News, 5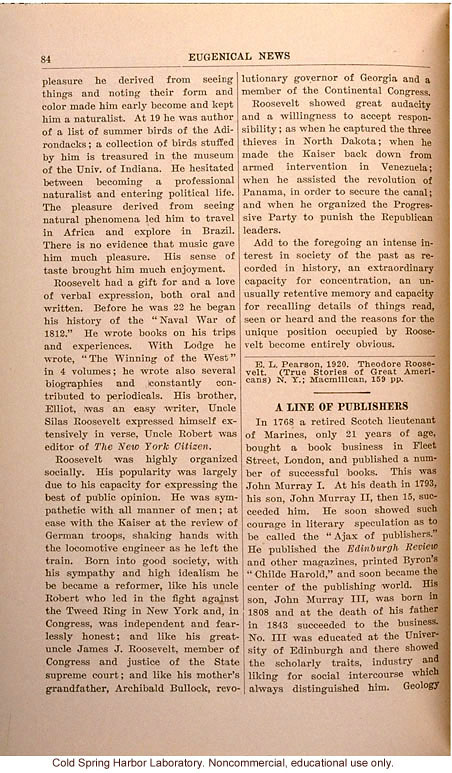 84 Eugenical News pleasure he derived from seeing things and noting their form and color made him early become and kept him a naturalist. At 19 he was author of a list of summer birds of the Adirondacks; a collection of birds stuffed by him is treasured in the museum of the Univ. of Indiana. He hesitated between becoming a professional naturalist and entering political life. The pleasure derived from seeing natural phenomena led him to travel in Africa and explore in Brazil. There is no evidence that music gave him much pleasure. His sense of taste brought him much enjoyment. Roosevelt had a gift for and a love of verbal expression, both oral and written. Before he was 22, he began his history of the "Naval War of 1812." He wrote books on his trips and experiences. With Lodge he wrote, "The Winning of the West" in 4 volumes; he wrote also several biographies and constantly contributed to periodicals. His brother, Elliot, was an easy writer, Uncle Silas Roosevelt expressed himself extensively in verse, Uncle Robert was editor of [italics]The New York Citizen[end italics]. Roosevelt was highly organized socially. His popularity was largely due to his capacity for expressing the best of public opinion. He was sympathetic with all manner of men; at east with the Kaiser at the review of the German troops, shaking hands with the locomotive engineer as he left the train. Born into good society, with his sympathy and high idealism he be[sic] became a reformer, like his uncle Robert who led the fight against the Tweed Ring in New York and, in Congress, was independent and fearlessly honest; and like his great-uncle James J. Roosevelt, member of Congress and justice of the State supreme court; and like his mother's grandfather, Archibald Bullock, revolutionary governor of Georgia and a member of the Continental Congress. Roosevelt showed great audacity and a willingness to accept responsibility; as when he captured the three thieves in North Dakota; when he made the Kaiser back down from armed intervention in Venezuela; when he assisted the revolution of Panama, in order to secure the canal; and when he organized the Progressive Party to punish the Republican leaders. Add to the foregoing an intense interest in society of the past as recorded in history, an extraordinary capacity for concentration, an unusually retentive memory and capacity for recalling details of things read, seen or heard and the reasons for the unique position occupied by Roosevelt become entirely obvious. [column-width hairline rule] E.L. Pearson, 1920. Theodore Roosevelt. (True Stories of Great Americans) N.Y.; MacMillcan[sic], 159 pp. [centered score] A Line of Publishers In 1768 a retired Scotch lieutenant of Marines, only 21 years of age, bought a book business in Fleet Street, London, and published a number of successful books. This was John Murray I. At his death in 1793, his son, John Murray II, then 15, succeeded him. He soon showed such courage in literary speculation as to be called the "Ajax of publishers." He published the [italics]Edinburgh Review[end italics] and other magazines, printed Byron's "Childe Harold," and soon became the center of the publishing world. His son, John Murray III, was born in 1808 and at the death of his father in 1843 succeeded to the business. No. III was educated at the University of Edinburgh and there showed the scholarly traits, industry and liking for social intercourse which always distinguished him. Geology [end]

Copyright 1999-2004: Cold Spring Harbor Laboratory; American Philosophical Society; Truman State University; Rockefeller Archive Center/Rockefeller University; University of Albany, State University of New York; National Park Service, Statue of Liberty National Monument; University College, London; International Center of Photography; Archiv zur Geschichte der Max-Planck-Gesellschaft, Berlin-Dahlem; and Special Collections, University of Tennessee, Knoxville.
The images and text in this Archive are solely for educational and scholarly uses. The materials may be used in digital or print form in reports, research, and other projects that are not offered for sale. Materials in this archive may not be used in digital or print form by organizations or commercial concerns, except with express permission.