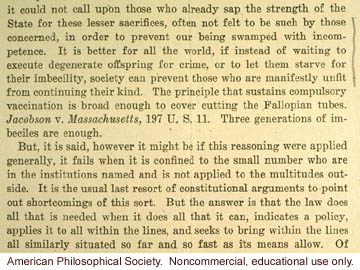 it could not call upon those who already sap the strength of the State for these lesser sacrifices, often not felt to be such by those concerned, in order to prevent our being swamped with incompetence. It is better for all the world, if instead of waiting to execute degenerative offspring for crime, or to let them starve for their imbecility, society can prevent those who are manifestly unfit from continuing their kind. The principle that sustains compulsory vaccination is broad enough to cover cutting the Fallopian tubes. Jacobson v. Massachusetts, 197 U. S. 11. Three generations of imbeciles are enough. But, it is said, however, it might be if this reasoning were applied generally, it fails when it is confined to the small number who are in the institutions named and is not applied to the multitudes outside. It is the usual last resort of constitutional arguments to point out shortcomings of this sort. But the answer is that the law does all that is needed when it does all that it can, indicates a policy, applies it to all within the lines, and seeks to bring within the lines all similarly situated so far and so fast as means allow. Of

Copyright 1999-2004: Cold Spring Harbor Laboratory; American Philosophical Society; Truman State University; Rockefeller Archive Center/Rockefeller University; University of Albany, State University of New York; National Park Service, Statue of Liberty National Monument; University College, London; International Center of Photography; Archiv zur Geschichte der Max-Planck-Gesellschaft, Berlin-Dahlem; and Special Collections, University of Tennessee, Knoxville.
The images and text in this Archive are solely for educational and scholarly uses. The materials may be used in digital or print form in reports, research, and other projects that are not offered for sale. Materials in this archive may not be used in digital or print form by organizations or commercial concerns, except with express permission.