ID# 307:

Owen Adair letter to Oregon physicians, about bill requiring doctor's certification for marriage license

Date:

1921

Source:

American Philosophical Society, ERO, MSC77,SerX,Box3: Harry H. Laughlin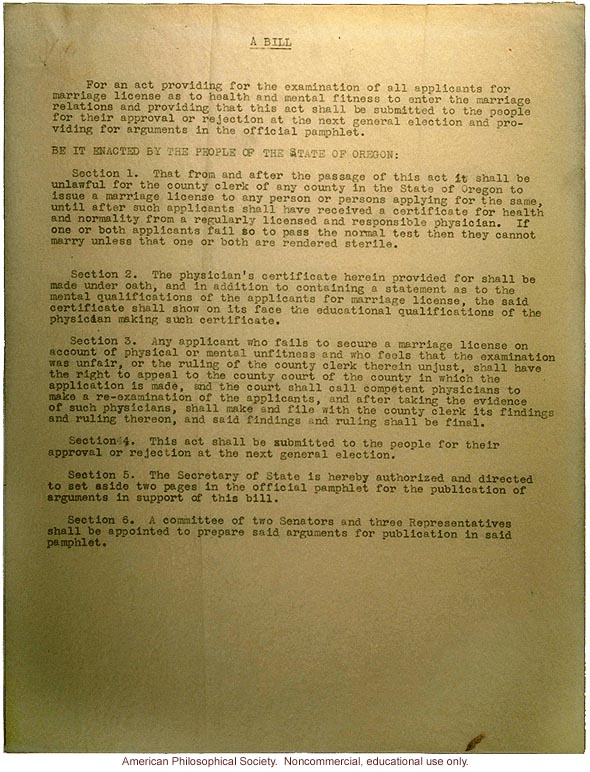 A Bill For an act providing for the examination of all applicants for marriage license as to health and mental fitness to enter the marriage relations and providing that this act shall be submitted to the people for their approval or rejection at the next general election and providing for arguments in the official pamphlet. Be It Enacted By The People Of The State Of Oregon Section 1. That from and after the passage of this act it shall be unlawful for the county clerk of any county in the State of Oregon to issue a marriage license to any person applying for the same, until after such applicants shall have received a certificate for health and normality from a regularly licensed and responsible physician. If one or both applicants fail so to pass the normal test then they cannot marry unless that one or both are rendered sterile. Section 2. The physician's certificate herein provided for shall be made under oath, and in addition to containing a statement as to the mental qualifications of the applicants for marriage license, the said certificate shall show on its face the educational qualifications of the physician making such a certificate. Section 3. Any applicant who fails to secure a marriage license on account of physical or mental unfitness and who feels that the examination was unfair, or the ruling of the county clerk therein unjust, shall have the right to appeal to the county court of the county in which the application is made, and the court shall call competent physicians to make a re-examination of the applicants, and after taking the evidence of such physicians, shall make and file with the county clerk its findings and ruling thereon, and said findings and ruling shall be final. Section 4. This act shall be submitted to the people for their approval or rejection at the next general election. Section 5. The Secretary of State is hereby authorized and directed to set aside two pages in the official pamphlet for the publication of arguments in support of this bill. Section 6. A committee of two Senators and three Representatives shall be appointed to prepare said arguments for publication in said pamphlet.

Copyright 1999-2004: Cold Spring Harbor Laboratory; American Philosophical Society; Truman State University; Rockefeller Archive Center/Rockefeller University; University of Albany, State University of New York; National Park Service, Statue of Liberty National Monument; University College, London; International Center of Photography; Archiv zur Geschichte der Max-Planck-Gesellschaft, Berlin-Dahlem; and Special Collections, University of Tennessee, Knoxville.
The images and text in this Archive are solely for educational and scholarly uses. The materials may be used in digital or print form in reports, research, and other projects that are not offered for sale. Materials in this archive may not be used in digital or print form by organizations or commercial concerns, except with express permission.