ID# 411:

Description of the American Breeders Association (ABA)

Date:

Circa 1909

Source:

American Philosophical Society, Dav, B:D27.,Amer Breeders Assoc, Eugenics

View this image in our new website.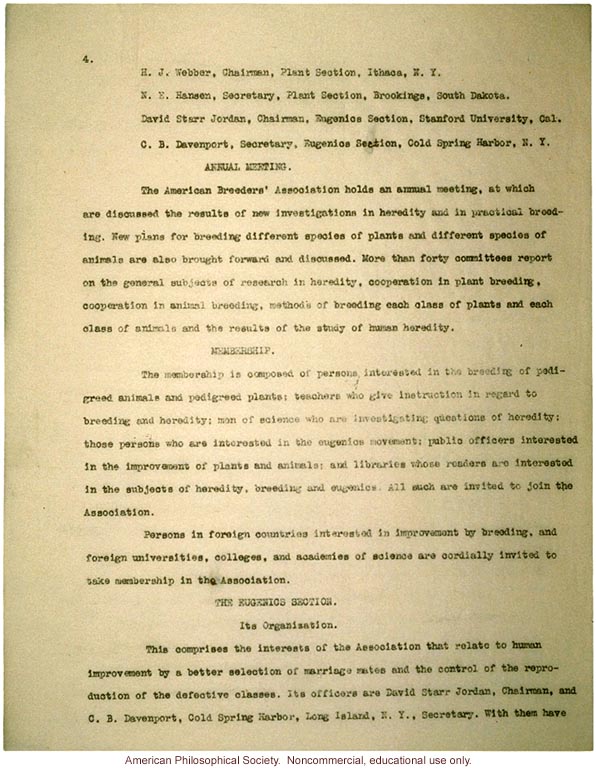 4. H. J. Webber, Chairman, Plant Section, Ithaca, N. Y. N. E. Hansen, Secretary, Plant Section, Brookings, South Dakota. David Starr Jordan, Chairman, Eugenics Section, Stanford University, Cal. C. B. Davenport, Secretary, Eugenics Section, Cold Spring Harbor, N. Y. Annual Meeting. The American Breeders' Association holds an annual meeting, at which are discussed the results of new investigations in heredity and in practical breeding. New plans for breeding different species of plants and different species of animals are also brought forward and discussed. More than forty committees report on the general subjects of research in heredity, cooperation in plant breeding, cooperation in animal breeding, methods of breeding each class of plants and each class of animals and the results of the study of human heredity. Membership. The membership is composed of persons, interested in the breeding of pedigreed animals and pedigreed plants; teachers who give instruction in regard to breeding and heredity; men of science who are investigating questions of heredity: those persons who are interested in the eugenics movement; public officers interested in the improvement of plants and animals; and libraries whose readers are interested in the subjects of heredity, breeding, and eugenics. All such are invited to join the Association. Persons in foreign countries interested in improvement by breeding, and foreign universities, colleges, and academies of science are cordially invited to take membership in the Association. The Eugenics Section. Its Organization. This comprises the interests of the Association that relate to human improvement by a better selection of marriage mates and the control of the reproduction of the defective classes. Its officers are David Starr Jordan, Chairman, and C.B. Davenport, Cold Spring Harbor, Long Island, N. Y., Secretary. With them have

Copyright 1999-2004: Cold Spring Harbor Laboratory; American Philosophical Society; Truman State University; Rockefeller Archive Center/Rockefeller University; University of Albany, State University of New York; National Park Service, Statue of Liberty National Monument; University College, London; International Center of Photography; Archiv zur Geschichte der Max-Planck-Gesellschaft, Berlin-Dahlem; and Special Collections, University of Tennessee, Knoxville.
The images and text in this Archive are solely for educational and scholarly uses. The materials may be used in digital or print form in reports, research, and other projects that are not offered for sale. Materials in this archive may not be used in digital or print form by organizations or commercial concerns, except with express permission.