ID# 415:

Charles Davenport letter to Mrs. E.H. Harriman about Eugenics Record Office (7/10/1910)

Date:

1910

Source:

American Philosophical Society, Dav, B:D27.,Harriman, Mrs. E.H.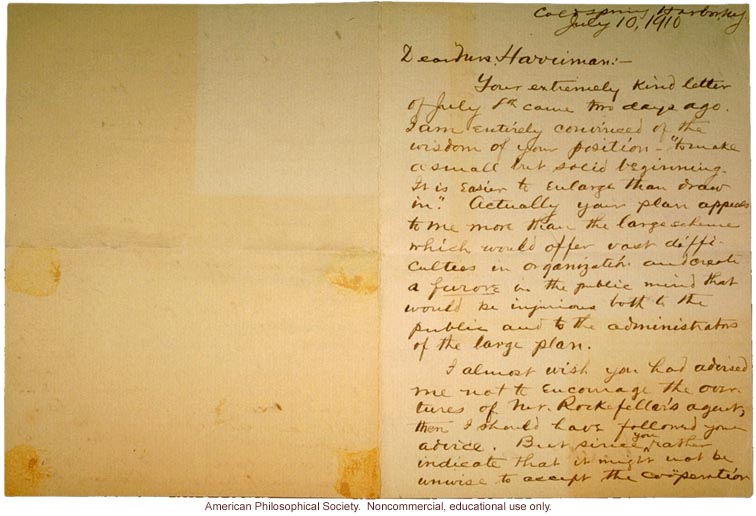 [NOTE image 415 is comprised of images 415 and 416] Cold Spring Harbor, NY July 10, 1910 Dear Mrs. Harriman, Your extremely kind letter of July 8th came two days ago. I am entirely convinced of the wisdom of your position - "to make a small but solid beginning. It is easier to enlarge than draw in." Actually your plan appeals to me more than the large scheme which would offer vast difficulties in organization and create a furore in the public mind that would be injurious both to the public and to the administrations of the large plan. I almost wish you had advised me not to encourage the overtures of Mr. Rockefeller's agent, then I should have followed your advice. But since you rather indicate that it might not be unwise to accept the cooporation of others I have decided to send the letter with substantial alterations. These include not only all that you made but also I am suggesting as a minimum, $10,000 for the first year with subsequent additions as the work warrants it. Certainly the committee does not want to be unnecessarily burdened with the care of funds, nor have the responsibility of wasting one cent of funds entrusted to it. It would please you, I am sure, to see the training class in Eugenics. Five are on the ground, harmoniously and effectively, and three more are on their way - one a John Hopkins student, one from Smith College and one an English woman - all are highly recommended as the best by those professors who have nominated [strikeout]recommended[end strikeout] them. At first I had some declinations so I felt justified, to save time, to invite one or two more than I had places for. But, of late, all have accepted and I am becoming alarmed lest all the rest do! We are planning a trip to visit four institutions, during two days, to see how records are kept and what opportunities are offered for study. We shall take occasion to do a little missionary work and urge on superintendents the desirability of securing funds for eugenics study from the state or the backing of private institutions. Mr. Laughlin, our proposed superintendent, is proving a success. On Friday, he kept the entire class at work from 8:20 a.m. to 6 p.m. excepting the noon hour, and their interest never flagged. These are indeed red letter days full of joy and faith. Sincerely yours, Chas B. Davenport.

Copyright 1999-2004: Cold Spring Harbor Laboratory; American Philosophical Society; Truman State University; Rockefeller Archive Center/Rockefeller University; University of Albany, State University of New York; National Park Service, Statue of Liberty National Monument; University College, London; International Center of Photography; Archiv zur Geschichte der Max-Planck-Gesellschaft, Berlin-Dahlem; and Special Collections, University of Tennessee, Knoxville.
The images and text in this Archive are solely for educational and scholarly uses. The materials may be used in digital or print form in reports, research, and other projects that are not offered for sale. Materials in this archive may not be used in digital or print form by organizations or commercial concerns, except with express permission.