ID# 469:

P.T. Walden, president of the Civic Protective Association, letter to C. Davenport about race mixing

Date:

1927

Source:

American Philosophical Society, ERO, MSC77,SerI,Box 61: Trait Files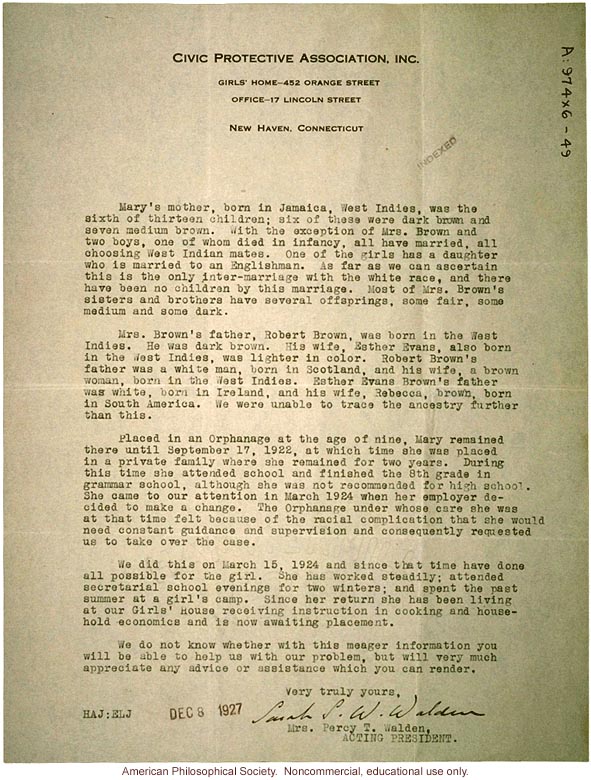 Civic Protective Association, Inc. Girls' Home 452 Orange Street Office - 17 Lincoln Street New Haven, Connecticut Mary's mother, born in Jamaica, West Indies, was the sixth of thirteen children; six of these were dark brown and seven medium brown. With the exception of Mrs. Brown and two boys, one of whom died in infancy, all have married, all choosing West Indian mates. One of the girls has a daughter who is married to an Englishman. As far as we can ascertain this is the only intermarriage with the white race, and there have been no children by this marriage. Most of Mrs. Brown's sisters and brothers have several offsprings, some fair, some medium and some dark. Mrs. Brown's father, Robert Brown, was born in the West Indies. He was dark brown. His wife, Esther Evans, also born in the West Indies, was lighter in color. Robert Brown's father was a white man, born in Scotland, and his wife, a brown woman, born in the West Indies. Esther Evans Brown's father was white, born in Ireland, and his wife, Rebecca, brown, born in South America. We were unable to trace the ancestry further than this. Placed in an orphanage at the age of nine, Mary remained there until September 17, 1922, at which time she was placed in a private family where she remained for two years. During this time she attended school and finished the 8th grade in grammar school, although she was not recommended for high school. She came to our attention in March 1924 when her employer decided to make a change. The Orphanage under whose care she was at that time felt because of the racial complication that she would need constant guidance and supervision and consequently requested us to take over the case. We did this on March 15, 1924 and since that time have done all possible for the girl. She has worked steadily; attended secretarial school evenings for two winters; and spent the past summer at a girls' camp. Since her return she has been living at our Girls' House receiving instruction in cooking and household economics and is now awaiting placement. We do not know whether with this meager information you will be able to help us with our problem, but will very much appreciate any advice or assistance which you can render. Very truly yours, [signed] Mrs. Percy T. Walden, Acting President. Dec8 1927

Copyright 1999-2004: Cold Spring Harbor Laboratory; American Philosophical Society; Truman State University; Rockefeller Archive Center/Rockefeller University; University of Albany, State University of New York; National Park Service, Statue of Liberty National Monument; University College, London; International Center of Photography; Archiv zur Geschichte der Max-Planck-Gesellschaft, Berlin-Dahlem; and Special Collections, University of Tennessee, Knoxville.
The images and text in this Archive are solely for educational and scholarly uses. The materials may be used in digital or print form in reports, research, and other projects that are not offered for sale. Materials in this archive may not be used in digital or print form by organizations or commercial concerns, except with express permission.