ID# 806:

Sermon #56: Religion and Eugenics AES Sermon Contest 1927, #6

Date:

1927

Source:

American Philosophical Society, AES, 57506: Am3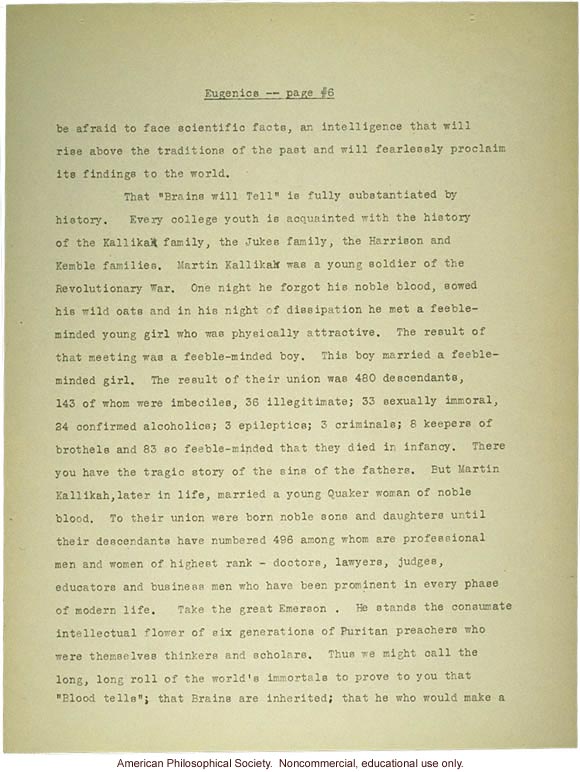 [page heading] Eugenics - page #6 [end page heading] be afraid to face scientific facts, an intelligence that will rise above the traditions of the past and will fearlessly proclaim its findings to the world. That "Brains will Tell" is fully substantiated by history. Every college youth is acquainted with the history of the Kallikak family, the Jukes family, the Harrison and Kemble families. Martin Kallikak was a young soldier of the Revolutionary War. One night he forgot his noble blood, sowed his wild oats and in his night of dissipation he met a feeble-minded young girl who was physically attractive. The result of that meeting was a feeble-minded boy. This boy married a feeble-minded girl. The result of their union was 480 descendants, 143 of whom were imbeciles, 36 illegitimate; 33 sexually immoral, 24 confirmed alcoholics; 3 epileptics; 3 criminals; 8 keepers of brothels and 83 so feeble-minded that they died in infancy. There you have the tragic story of the sins of the fathers. But Martin Kallikah, [sic] later in life, married a young Quaker woman of noble blood. To their union were born noble sons and daughters until their descendants have numbered 496 among whom are professional men and women of highest rank - doctors, lawyers, judges, educators and business men who have been prominent in every phase of modern life. Take the great Emerson. He stands the consumate [sic] intellectual flower of six generations of Puritan preachers who were themselves thinkers and scholars. Thus we might call the long, long roll of the world's immortals to prove to you that "Blood tells"; that Brains are inherited; that he who would make a

Copyright 1999-2004: Cold Spring Harbor Laboratory; American Philosophical Society; Truman State University; Rockefeller Archive Center/Rockefeller University; University of Albany, State University of New York; National Park Service, Statue of Liberty National Monument; University College, London; International Center of Photography; Archiv zur Geschichte der Max-Planck-Gesellschaft, Berlin-Dahlem; and Special Collections, University of Tennessee, Knoxville.
The images and text in this Archive are solely for educational and scholarly uses. The materials may be used in digital or print form in reports, research, and other projects that are not offered for sale. Materials in this archive may not be used in digital or print form by organizations or commercial concerns, except with express permission.