ID# 820:

"Summary of the discussion at the conference on education and eugenics"

Date:

1937

Source:

American Philosophical Society, AES, 57506: Am3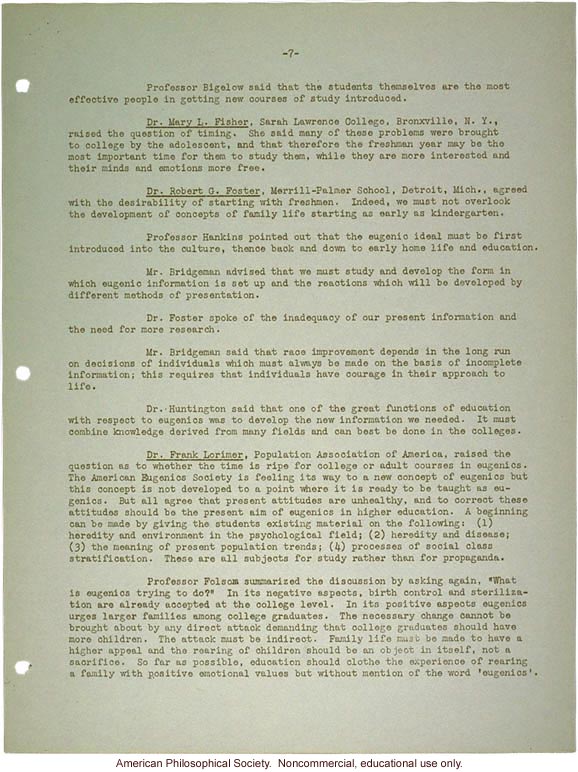 [page number] -7- [end page number] Professor Bigelow said that the students themselves are the most effective people in getting new courses of study introduced. Dr. Mary L. Fisher, Sarah Lawrence College, Bronxville, N. Y., raised the question of timing. She said many of these problems were brought to college by the adolescent, and that therefore the freshman year may be the most important time for them to study them, while they are more interested and their minds and emotions more free. Dr. Robert G. Foster, Merrill-Palmer School, Detroit, Mich., agreed with the desirability of starting with freshmen. Indeed, we must not overlook the development of concepts of family life starting as early as kindergarten Professor Hankins pointed out that the eugenic ideal must be first introduced into the culture, thence back and down to early home life and education. Mr Bridgeman advised that we must study and develop the form in which eugenic information is set up and the reactions which will be developed by different methods of presentation. Dr. Foster spoke of the inadequacy of our present information and the need for more research. Mr. Bridgeman said that race improvement depends in the long run on decisions of individuals which must always be made on the basis of incomplete information; this requires that individuals have courage in their approach to life. Dr. Huntington said that one of the great functions of education with respect to eugenics was to develop the new information we needed. It must combine knowledge derived from many fields and can best be done in the colleges. Dr. Frank Lorimer, Population Association of America, raised the question as to whether the time is ripe for college or adult courses in eugenics. The American Eugenics Society is feeling its way to a new concept of eugenics but this concept is not developed to a point where it is ready to be taught as eugenics. But all agree that present attitudes are unhealthy, and to correct these attitudes should be the present aim of eugenics in higher education. A beginning can be made by giving the students existing material on the following: (1) heredity and environment in the psychological field; (2) heredity and disease; (3) the meaning of present population trends; (4) processes of social class stratification. These are all subjects for study rather than for propaganda. Professor Folsom summarized the discussion by asking again, "What is eugenics trying to do?" In its negative aspects, birth control and sterilization are already accepted at the college level. In its positive aspects eugenics urges larger families among college graduates. The necessary change cannot be brought about by any direct attack demanding that college graduates should have more children. The attack must be indirect. Family life must be made to have a higher appeal and the rearing of children should be an object in itself, not a sacrifice. So far as possible, education should clothe the experience of rearing a family with positive emotional values but without mention of the word 'eugenics'.

Copyright 1999-2004: Cold Spring Harbor Laboratory; American Philosophical Society; Truman State University; Rockefeller Archive Center/Rockefeller University; University of Albany, State University of New York; National Park Service, Statue of Liberty National Monument; University College, London; International Center of Photography; Archiv zur Geschichte der Max-Planck-Gesellschaft, Berlin-Dahlem; and Special Collections, University of Tennessee, Knoxville.
The images and text in this Archive are solely for educational and scholarly uses. The materials may be used in digital or print form in reports, research, and other projects that are not offered for sale. Materials in this archive may not be used in digital or print form by organizations or commercial concerns, except with express permission.