557:

"Heredity of musical ability," Fig. 19

Date:

1921

Source:

Cold Spring Harbor, E.06 Eug-2, Exhibits Book-Second Int.Ex. Of Eugenics,pg 97

View this image in our new website.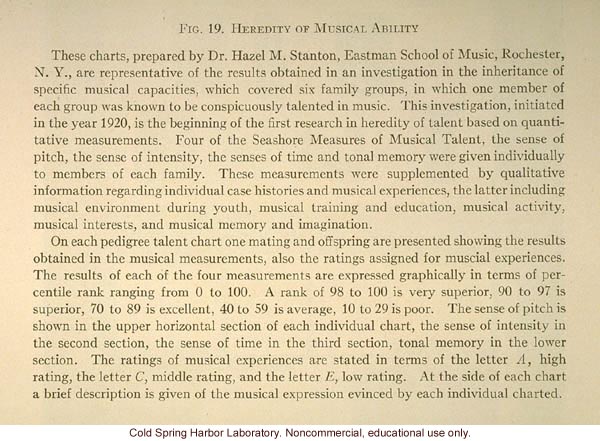 Fig. 19. The Heredity of Musical Ability These charts, prepared by Dr. Hazel M. Stanton, Eastman School of Music, Rochester, N.Y., are representatives of the results obtained in an investigation in the inheritance of specific musical capacities, which covered six family groups, in which one member of each group was known to be conspicuously talented in music. This investigation, initiated in the year 1920, is the beginning of the first research in heredity of talent based on quantitative measurements. Four of the Seashore Measures of Musical Talent, the sense of pitch, the sense of intensity, the senses of time and tonal memory were given individually to members of each family. These measurements were supplemented by qualitative information regarding individual case histories and musical experiences, the latter including musical environment during youth, musical training and education, musical activity, musical interests, and musical memory and imagination. On each pedigree talent chart one mating and offspring are presented showing the results obtained in the musical measurements, also the ratings assigned for musical experiences. The results of each of the four measurements are expressed graphically in terms of percentile rank ranging from 0 to 100. A rank of 98 to 100 is very superior, 90 to 97 is superior, 70 to 89 is excellent, 40 to 59 is average, 10 to 29 is poor. The sense of pitch is shown in the upper horizontal section of each individual chart, the sense of intensity in the second section, the sense of time in the third section, tonal memory in the lower section. The ratings of musical experiences are stated in terms of the letter A, high rating, the letter C, the middle rating, and the letter E, low rating. At the side of each chart a brief description is given of the musical expression evinced by each individual charted.




Copyright 1999-2004: Cold Spring Harbor Laboratory; American Philosophical Society; Truman State University; Rockefeller Archive Center/Rockefeller University; University of Albany, State University of New York; National Park Service, Statue of Liberty National Monument; University College, London; International Center of Photography; Archiv zur Geschichte der Max-Planck-Gesellschaft, Berlin-Dahlem; and Special Collections, University of Tennessee, Knoxville.
The images and text in this Archive are solely for educational and scholarly uses. The materials may be used in digital or print form in reports, research, and other projects that are not offered for sale. Materials in this archive may not be used in digital or print form by organizations or commercial concerns, except with express permission.