ID# 498:

"The system of indexing traits used at Eugenics Records Office"

Date:

Circa 1912

Source:

American Philosophical Society, Dav, B:D27,Ser 2,CSH-ERO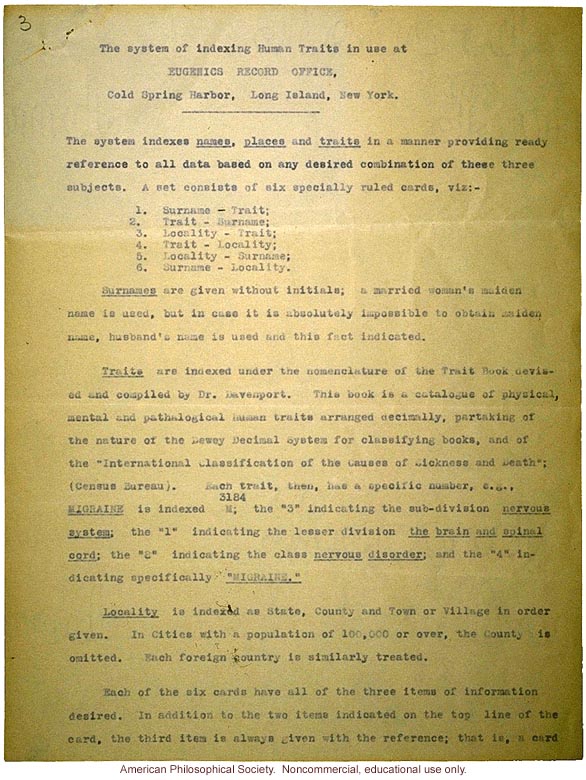 3 The system of indexing Human Traits in use at Eugenics Record Office, Cold Spring Harbor, Long Island, New York. The system indexes [underlined]names, places, and traits[end underline] in a manner providing ready reference to all data based on any desired combination of these three subjects. A set consists of six especially ruled cards, viz:- 1. Surname - Trait; 2. Trait - Surname; 3. Locality - Trait; 4. Trait - Locality; 5. Locality - Surname; 6. Surname - Locality. [underline]Surnames[end underline] are given without initials; a married woman's maiden name is used, but in case it is absolutely impossible to obtain maiden name, a husband's name is used and this fact indicated. [underline]Traits[end underline] are indexed under the nomenclature of the Trait Book devised and compiled by Dr. Davenport. This book is a catalogue of physical, mental and pathological human traits arranged decimally, partaking of the nature of the Dewey Decimal system for classifying books, and of the "International Classification of the causes of sickness and Death"; (Census Bureau). Each trait, then, has a specific number, e.g., [underline]Migraine[end underline] is indexed 3184 M; the "3" indicating the sub-division [underline]nervous system[end underline]; the "1" indicating the lower division [underline] the brain and spinal cord[end underline]; the "8" indicating the class [underline]nervous disorder[end underline]; and the "4" indicating specifically [underline]"Migraine"[end underline]. [underline]Locality[end underline] is indexed as State, County and Town or village in order given. In Cities with a population of 100,000 or over, the County is omitted. Each foreign country is similarly treated. Each of the six cards have all of the three items of information desired. In addition to the two items indicated on the top line of the card, the third item is always given with the reference; that is, a card

Copyright 1999-2004: Cold Spring Harbor Laboratory; American Philosophical Society; Truman State University; Rockefeller Archive Center/Rockefeller University; University of Albany, State University of New York; National Park Service, Statue of Liberty National Monument; University College, London; International Center of Photography; Archiv zur Geschichte der Max-Planck-Gesellschaft, Berlin-Dahlem; and Special Collections, University of Tennessee, Knoxville.
The images and text in this Archive are solely for educational and scholarly uses. The materials may be used in digital or print form in reports, research, and other projects that are not offered for sale. Materials in this archive may not be used in digital or print form by organizations or commercial concerns, except with express permission.