ID# 88:

"Family History of Louise Homer: Inheritance of musical talent" pedigree, family history, and newspaper photograph

Date:

1920

Source:

American Philosophical Society, ERO, MSC77

View this image in our new website.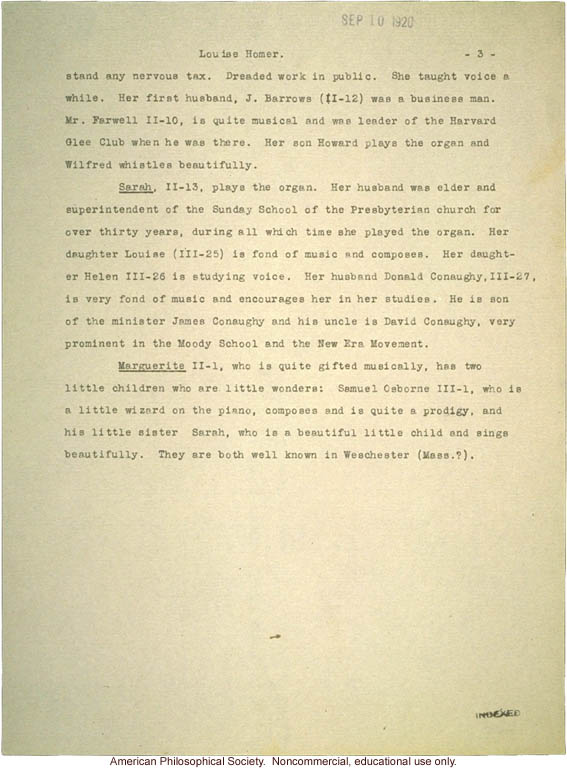 Sep 10 1920 Louise Homer. -3- stand any nervous tax. Dreaded work in public. She taught voice a while. Her first husband, J. Barrows (II-12) was a business man. Mr. Farwell II-10, is quite musical and was leader of the Harvard Glee Club when he was there. Her son Howard plays the organ and Wilfred whistles beautifully. Sarah. II-13, plays the organ. Her husband was older and superintendent of the Sunday School of the Presbyterian church for over thirty years, during all which time she played the organ. Her daughter Louise (III-25) is fond of music and composes. Her daughter Helen III-26 is studying voice. Her husband Donald Conaughy, III-27, is very fond of music and encourages her in her studies. He is son of the minister James Conaughy and his uncle is David Conaughy, very prominent in the Moody School and the New Era Movement. Marguerite II-1, who is quite gifted musically, has two little children who are little wonders: Samuel Osborne III-1, who is a little wizard on the piano, composes and is quite a prodigy, and his little sister Sarah, who is a beautiful little child and sings beautifully. They are both well known in Weschester (Mass.?).

Copyright 1999-2004: Cold Spring Harbor Laboratory; American Philosophical Society; Truman State University; Rockefeller Archive Center/Rockefeller University; University of Albany, State University of New York; National Park Service, Statue of Liberty National Monument; University College, London; International Center of Photography; Archiv zur Geschichte der Max-Planck-Gesellschaft, Berlin-Dahlem; and Special Collections, University of Tennessee, Knoxville.
The images and text in this Archive are solely for educational and scholarly uses. The materials may be used in digital or print form in reports, research, and other projects that are not offered for sale. Materials in this archive may not be used in digital or print form by organizations or commercial concerns, except with express permission.