ID# 610:

"The science of eugenics and sex-life, love, marriage, maternity: the regeneration of the human race," by W.J. Hadden, C.H. Robinson, and M.R. Melendy

Date:

1930

Source:

Cold Spring Harbor, Micklos, The Science of Eugenics,pg iii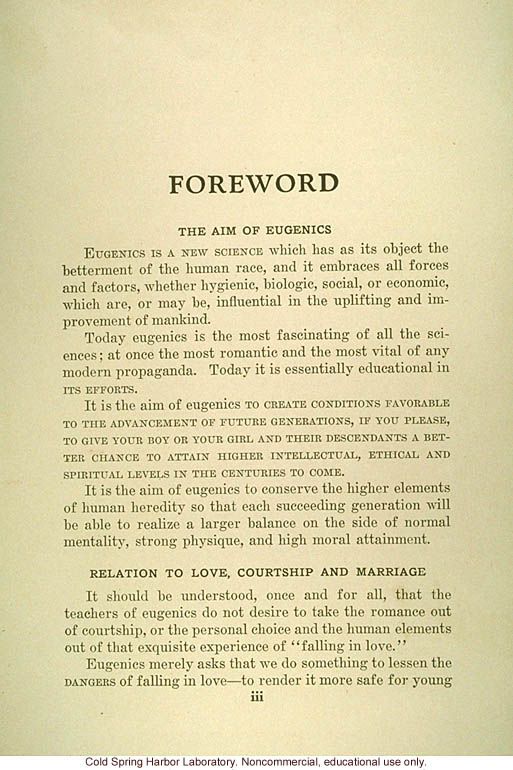 (images 610 through 625 are companions) Foreword The Aim of Eugenics Eugenics is a new science which has as its object the betterment of the human race, and it embraces all forces and factors, whether hygienic, biologic, social, or economic, which are, or may be, influential in the uplifting and improvement of mankind. Today eugenics is the most fascinating of all the sciences; at once the most romantic and the most vital of any modern propaganda. Today it is essentially educational in its efforts. It is the aim of eugenics to create conditions favorable to the advancement of future generations, if you please, to give your boy or your girl and their descendants a better chance to attain higher intellectual, ethical and spiritual levels in the centuries to come. It is the aim of eugenics to conserve the higher elements of human heredity so that each succeeding generation will be able to realize a larger balance on the side of normal mentality, strong physique, and high moral attainment. Relation to Love, Courtship and Marriage It should be understood, once and for all, that the teachers of eugenics do not desire to take the romance out of courtship, or the personal choice and the human elements out of that exquisite experience of "falling in love." Eugenics merely asks that we do something to lessen the dangers of falling in love - to render it more safe for young iii

Copyright 1999-2004: Cold Spring Harbor Laboratory; American Philosophical Society; Truman State University; Rockefeller Archive Center/Rockefeller University; University of Albany, State University of New York; National Park Service, Statue of Liberty National Monument; University College, London; International Center of Photography; Archiv zur Geschichte der Max-Planck-Gesellschaft, Berlin-Dahlem; and Special Collections, University of Tennessee, Knoxville.
The images and text in this Archive are solely for educational and scholarly uses. The materials may be used in digital or print form in reports, research, and other projects that are not offered for sale. Materials in this archive may not be used in digital or print form by organizations or commercial concerns, except with express permission.