ID# 630:

"The science of eugenics and sex-life, love, marriage, maternity: the regeneration of the human race," by W.J. Hadden, C.H. Robinson, and M.R. Melendy

Date:

1930

Source:

Cold Spring Harbor, Micklos, The Science of Eugenics,pg 104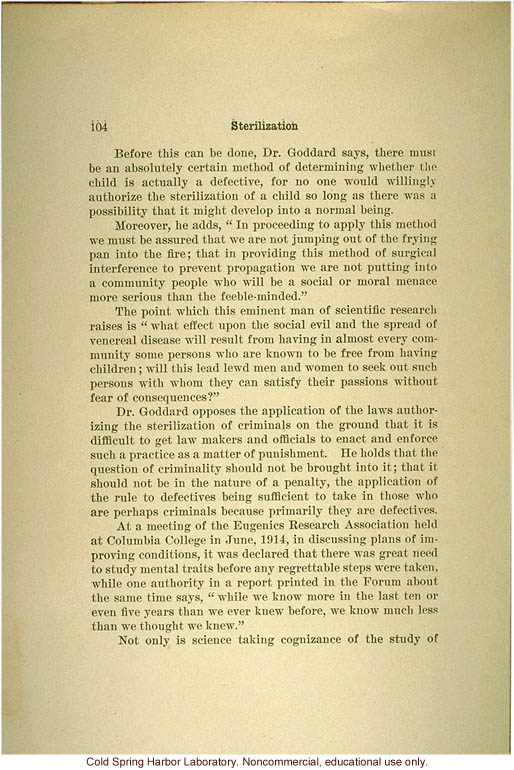 104 Sterilization Before this can be done, Dr. Goddard says, there must be an absolutely certain method of determining whether the child is actually a defective, for no one would willingly authorize the sterilization of a child so long as there was a possibility that it might develop into a normal being. Moreover, he adds, "In proceeding to apply this method we must be assured that we are not jumping out of the frying pan into the fire; that in providing this method of surgical interference to prevent propagation we are not putting into a community people who will be a social or moral menace more serious than the feeble-minded." The point which this eminent man of scientific research raises is "what effect upon the social evil and the spread of venereal disease will result from having in almost every community some persons who are known to be free from having children; will this lead to lewd men and women to seek out such persons with whom they can satisfy their passions without fear of consequences?" Dr. Goddard opposes the application of the laws authorizing the sterilization of criminals on the ground that it is difficult to get law makers and officials to enact and enforce such a practice as a matter of punishment. He holds that the question of criminality should not be brought into it; that it should not be in the nature of a penalty, the application of the rule to defectives being sufficient to take in those who are perhaps criminals because primarily they are defectives. At a meeting of the Eugenics Research Association held at Columbia College in June, 1914, in discussing plans of improving conditions, it was declared that there was great need to study mental traits before any regrettable steps were taken, while one authority in a report printed in the Forum about the same time says, "while we know more in the last ten or even five years than we ever knew before, we know so much less than we thought we knew." Not only is science taking cognizance of the study of

Copyright 1999-2004: Cold Spring Harbor Laboratory; American Philosophical Society; Truman State University; Rockefeller Archive Center/Rockefeller University; University of Albany, State University of New York; National Park Service, Statue of Liberty National Monument; University College, London; International Center of Photography; Archiv zur Geschichte der Max-Planck-Gesellschaft, Berlin-Dahlem; and Special Collections, University of Tennessee, Knoxville.
The images and text in this Archive are solely for educational and scholarly uses. The materials may be used in digital or print form in reports, research, and other projects that are not offered for sale. Materials in this archive may not be used in digital or print form by organizations or commercial concerns, except with express permission.