ID# 625:

"The science of eugenics and sex-life, love, marriage, maternity: the regeneration of the human race," by W.J. Hadden, C.H. Robinson, and M.R. Melendy

Date:

1930

Source:

Cold Spring Harbor, Micklos, The Science of Eugenics,pg 6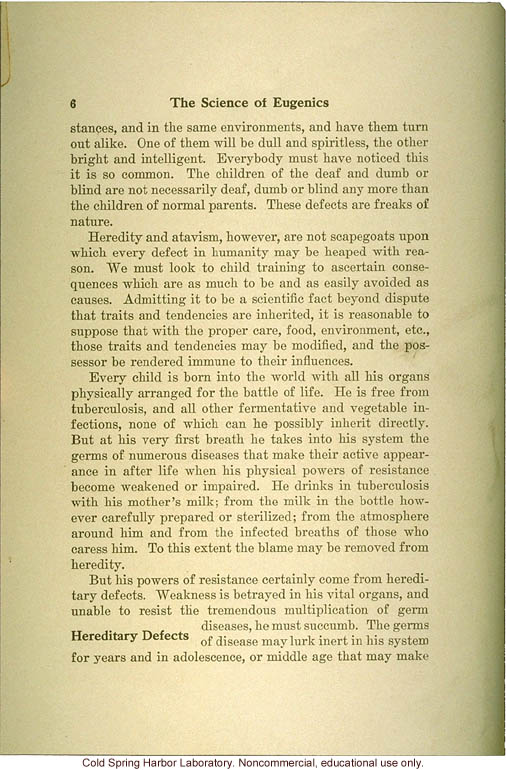 6 The Science of Eugenics stances, and in the same environments, and have them turn out alike. One of them will be dull and spiritless, the other bright and intelligent. Everybody must have noticed this it is so common. The children of the deaf and dumb or blind are not necessarily deaf, dumb or blind any more than the children of normal parents. Heredity and atavism, however, are not scapegoats upon which every defect in humanity may be heaped with reason. We must look to child training to ascertain consequences which are as much to be and as easily avoided as causes. Admitting it to be a scientific fact beyond dispute that traits and tendencies are inherited, it is reasonable to suppose that with the proper care, food, environment, etc., those traits and tendencies may be modified, and the possessor be rendered immune to their influences. Every child is born into the world with all his organs physically arranged for the battle of life. He is free from tuberculosis, and all other fermentative and vegetable infections, none of which can he possible inherit directly. But at his very first breath he takes into his system the germs of numerous diseases that make their active appearance in after life when his physical powers of resistance become weakened or impaired. He drinks in tuberculosis with his mother's milk; from the milk in the bottle however carefully prepared or sterilized; from the atmosphere around him and from the infected breaths of those who caress him. To this extent the blame may be removed from heredity. Hereditary Defects But his powers of resistance certainly come from hereditary defects. Weakness is betrayed in his vital organs, and unable to resist the tremendous multiplication of germ diseases, he must succumb. The germs of disease may lurk inert in his system for years and in adolescence, or middle age that may make

Copyright 1999-2004: Cold Spring Harbor Laboratory; American Philosophical Society; Truman State University; Rockefeller Archive Center/Rockefeller University; University of Albany, State University of New York; National Park Service, Statue of Liberty National Monument; University College, London; International Center of Photography; Archiv zur Geschichte der Max-Planck-Gesellschaft, Berlin-Dahlem; and Special Collections, University of Tennessee, Knoxville.
The images and text in this Archive are solely for educational and scholarly uses. The materials may be used in digital or print form in reports, research, and other projects that are not offered for sale. Materials in this archive may not be used in digital or print form by organizations or commercial concerns, except with express permission.