ID# 624:

"The science of eugenics and sex-life, love, marriage, maternity: the regeneration of the human race," by W.J. Hadden, C.H. Robinson, and M.R. Melendy

Date:

1930

Source:

Cold Spring Harbor, Micklos, The Science of Eugenics,pg 5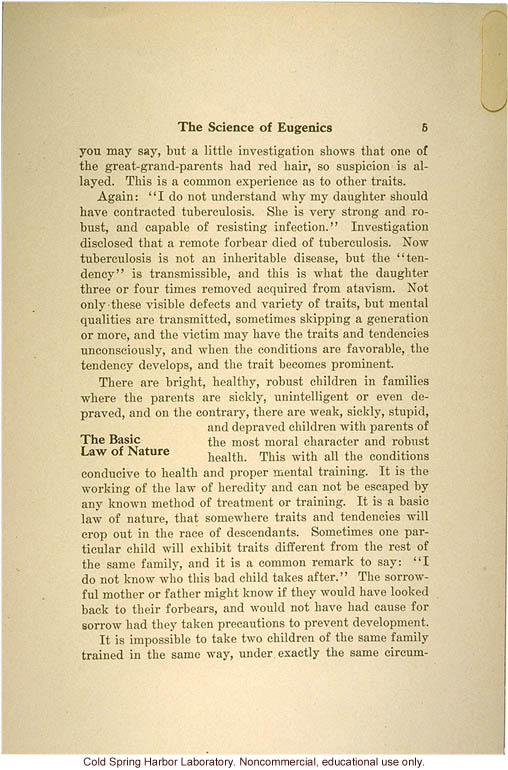 The Science of Eugenics 5 you may say, but a little investigation shows that one of the great-grand-parents had red hair, so suspicion is allayed. This is a common experience as to other traits. Again: "I do not understand why my daughter should have contracted tuberculosis. She is very strong and robust, and capable of resisting infection." Investigation disclosed that a remote forbear died of tuberculosis. Now tuberculosis is not an inheritable disease, but the "tendency" is transmissible, and this is what the daughter three or four times removed acquired from atavism. Not only these visible defects and variety of traits, but mental qualities are transmitted, sometimes skipping a generation or more, and the victim may have the traits and tendencies unconsciously, and when the conditions are favorable, the tendency develops, and the trait becomes prominent. There are bright, healthy, robust children in families where the parents are sickly, unintelligent, or even depraved, and on the contrary, there are weak, sickly, stupid, and depraved children with parents of the most moral character and robust health. This with all the conditions conducive to health and proper mental training. It is the working of the law of heredity and can not be escaped by any known method of treatment or training. It is a basic law of nature, that somewhere traits and tendencies will crop out in the race of descendants. Sometimes one particular child will exhibit traits different from the rest of the same family, and it is a common remark to say: "I do not know who this bad child takes after." The sorrowful mother or father might know if they would have looked back to their forbears, and would not have had cause for sorrow had they taken precautions to prevent development. It is impossible to take two children of the same family trained in the same way, under exactly the same circum-

Copyright 1999-2004: Cold Spring Harbor Laboratory; American Philosophical Society; Truman State University; Rockefeller Archive Center/Rockefeller University; University of Albany, State University of New York; National Park Service, Statue of Liberty National Monument; University College, London; International Center of Photography; Archiv zur Geschichte der Max-Planck-Gesellschaft, Berlin-Dahlem; and Special Collections, University of Tennessee, Knoxville.
The images and text in this Archive are solely for educational and scholarly uses. The materials may be used in digital or print form in reports, research, and other projects that are not offered for sale. Materials in this archive may not be used in digital or print form by organizations or commercial concerns, except with express permission.